Aquatic Therapy, Traction, Exercise at Home
Efficient in energy, water, and space consumption,
this DME device is planet friendly, versatile, and compact.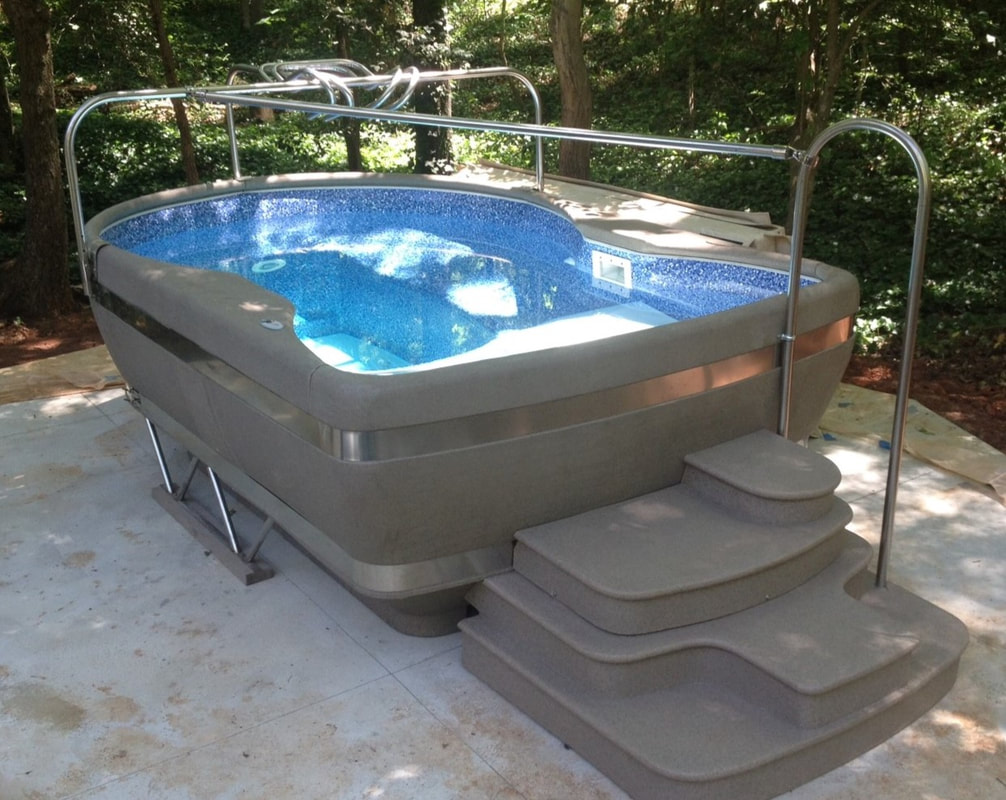 The Vertical Pool was inspired by the anticipated need of the returning wounded who would want to heal and recover in the privacy of home with family. The market for this aquatic therapy DME device, interestingly, has turned out to be women. This duality of mission (veterans serving country/women serving family-community) encourages continued diligence helping those in need of rehabilitation; body, mind, and spirit.

Interested in adopting this vision/mission/product?
No investment capital required. Just desire, ambition, and willingness.
Refer to Vets/Women page for additional overview.
-Bring your therapy and/or therapist to your home-
-Exercise and get pain relief on your own schedule-
-Customize the accessories to your needs-
-Set it to your ideal temperature and sanitation-
---
Aquatic therapy is Ideal for:
Wheelchair-bound
Paraplegics and quadriplegics
Amputees
Spinal injuries, cerebral palsy
Children with special needs​

PTSD
General wellness and pain relief
Rehab and physical therapy
​Those with high anxiety, stress, or emotional imbalances ​
And for those looking for low-impact strength training for a variety of needs, including arthritis, injuries, small range of motion, fibromyalgia, muscular sclerosis, parkinsons, post-op, age-related, bariatric patients and more.
---
Under 900 gallons, The Vertical Pool has two seats and a deep well that can be up to 5'6" in water depth. Exercises can be vertically or horizontally, and can incorporate the metal handholds and grab bars overhead and underwater. The pool comes with an insulated cover, a 1 hp. 2-speed pump, heating element and 50 sq. ft filter canister. This system can be connected to either a 110 or 220 volt GFCI outlet, which will require a shut-off switch.
Topside buttons are for high/low speed pump, light, and up/down water temperature.

The design is compatible with Hoyer lifts, enables patient-assist from outside or inside, and comes with a swim-in-place support frame (The Swimhorse). The Vertical Pool can be adapted to many needs and disabilities.

This device is considered Durable Medical Equipment (DME) and may qualify for grants or insurance coverage. Check with your doctor and insurance provider.

We will help you get through the entire process; pricing includes shipping and installation.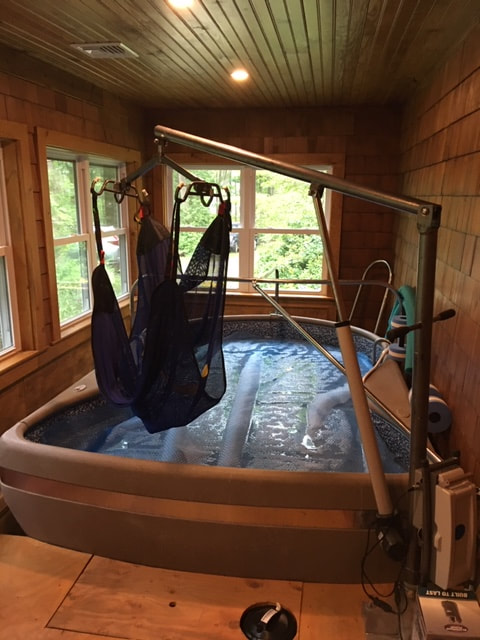 A 6' 2" wide pool in a 7' 6" wide room, and it even incorporates a lift!
Above picture provided by Dave M. in his NJ home, June '20.
Below picture of Carol's Casita in her home in CO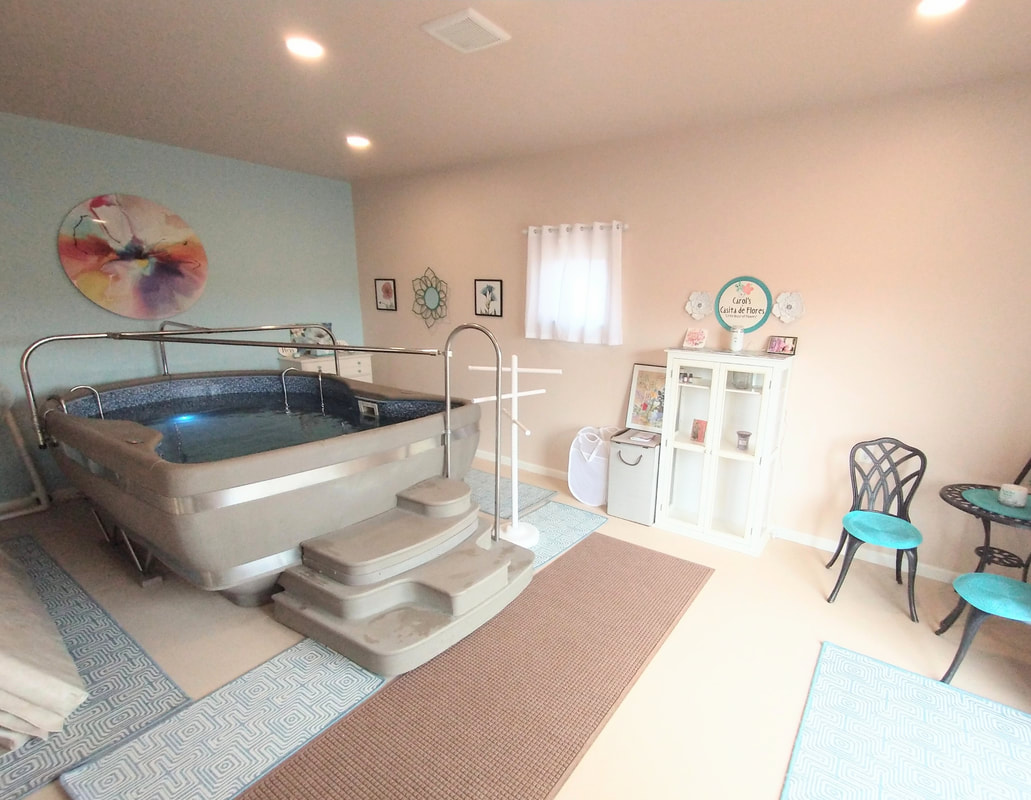 $13,800 delivered and installed within the continental US
(if demo available; $10,800)
---
Contact us:
theverticalpool@gmail.com
(928)300-9800

Slide show below

One design virtue of the Vertical Pool is that it can be "re-homed" over and over to different locations, with just a new factory liner installed.
Why The Vertical Pool?
by Molly Hale

"Having an easily accessible pool at home has changed my world. Dealing with a spinal cord injury since 1995, I have relied on distant public facilities for the freedom of my pool time. Now, the only driving I have to do involves rolling out my back door and getting into my crystal clear, warm water pool whenever I like. I move, I float, I sing, I dream …. oh, and I exercise …. and heal. I'm loving my full-body tan. No swimsuits needed in this private, convenient and perfect environment!

In researching modular, multi-piece pools, The Vertical Pool was clearly the winner. Affordable, well designed structurally and mechanically, it won't crack (good idea here in California with our quakes), well insulated and the pool can be moved or re-homed if needed. Installation can be outdoors or indoors, including in a basement or garage or on a hillside! Like most small pools there's an insulated cover (which I creatively manage myself), and seats to indulge Jeramy and I together, when we aren't exercising or dancing. Yes, dancing… in an upright posture as a couple. Lovely.

​The Vertical Pool has unique virtues developed through input from water therapy professionals. It is designed to the height, length, and reach of the human body, which translates to efficiency in energy usage, quantity of water required and the space needed for installation. The deep part of the basin is 5' 4" deep at the water level allowing suspended exercising and an adjustable height floor allows weight-bearing activities. I particularly like the overhead and underwater exercise bars for stability in a variety of movements.

The side of the pool is sturdy and easy to sit on, which is how I get in and, while I don't use a lift, it is beneficial that a Hoyer lift can be used if needed for access/egress. The Swimhorse support frame, usable in any pool, lets me swim in place, or just meditate lying on my back, still fully immersed in the warmth of the water. Jeramy can help me with adjustments and equipment from the outside perimeter of the pool which is convenient for us both. We are both enthralled with The Vertical Pool as it supports our health, strength, relaxation and joy of living."
Molly Hale using her Vertical Pool